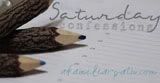 1. I haven't posted since May 2nd. I haven't been on the computer for much of anything since then. Life sometimes gets too busy and that is what has been going on here. But so much of it has a been a good busy, and I not complaining.
2. Because of the busy-ness of the last few weeks, this weekend is my resting-up weekend. And I have been soooo lazy - hence the Saturday Confession on Sunday morning. Yesterday I slept until 8:30 (really late for me), moved to the living room with coffee, took puppies outside for a morning romp, then back to living room for more coffee. I decided that this was the day that I had to have a haircut. I made a few calls and waited for the reply. Lovey called around 10:30 and asked me to ride to town with him, so I did change from pajama pants to yoga pants. I was back at home by noon and took about a three hour nap. I went to get that haircut around 7:00, then it was back to the couch for more TV and another nap. I woke up and went to bed around 3:00 a.m. I haven't slept that much in ages!
3. My baby graduated Friday. He keeps reminding me that he's not leaving. But it is still so painful. The first night that both boys were allowed to go out own their own, I remember sitting in the living room with Lovey and telling him, "I don't like this. I'm not ready." That feeling is back. There have been many late nights of homework and projects where I have moaned, "I'll be so glad when this is all over and done." I now take it all back.
4. Summer is near, and lake-living is calling me. I love camping. This year I'm going with a new group for an all girls camping trip at Heber Springs. It will be fun. There are about 15 of us going, and I only know about two or three. They have done this for a few years and always have a great time. I will also make the annual Lake DeGray trip for the 4th. Lots of friends and family and always a great time. I'm hoping that our chickens will be caught in time for Lovey and Baby Jus to make a trip before the summer is up.
5. After #4, I guess I should confess that I abandon my husband for camping trips. His chickens require attention 24/7. He does sometimes manage to come to the lake for a day and even occassionally manages to spend a night. But he never gets to enjoy more than 24 or so hours. Do I feel guilty? Yes. Guilty enough to stay home? No
6. I hope
Melissa
notices that I figured out the button this week.